WasPHP interface begins at the login page:




Type your login name and password in the adequate boxes, and press

Enter

, or click on the

Login

button.

If you do not already have a login name, contact the site administrator, or use the e-mail resgistration forms if available (see the

Registering

section below).






Click on the first one to request an e-mail registration:




Complete the form with the user name you wish to use, and choose a password. Complete this form by a valid e-mail address (it is needed to validate your registration). Press

Enter

, or click on the

Send

button to send the request. If you chose a username that was valid and available, an e-mail will be sent to the address you provided, with a code enabling you to validate your registration.

Use the second link to display a validation form:




Fill in the boxes with the login you chose, and the validation code you received, and press

Enter

, or click on the

Accept

button to finish your registration.

You can now use your login and password to access your account management page.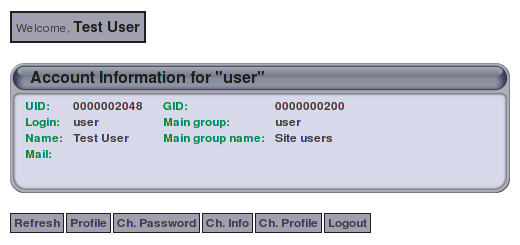 UID: numeric user identifier
Login: your login name (that you type in the login window to access this page)
Name: your full name
Mail: the mail address you used to register (distinct from the address that appears in your profile)
GID: numeric group identifier
Main group: the short name of your main rattachement group
Main group name: the complete name of your main group
Like every user, you are a member of at least one group (usually the users group), which is your main rattachement group. This group gives you some basic permissions, defined by the site's administrator. Your privileges can be extended by making you members of other groups, or on an individual basis.

All registered users on the site can consult your profile, that you can display with the

Profile

button:




You can freely edit this information, except for group memberships, that are granted by the site's administrator. Note that the e-mail address displayed in your profile is not the address you used to register, which is kept confidential. This address is only displayed in your account information page, that only you and the site's administrator can access.


Ch. Password

button lets you modify your password. Click it to obtain a password change form:




Type twice your new password in the top two boxes, and your old password in the bottom box. Then, click on

Change

or press

Enter

to set your new password. The password change is immediate.

Your user information and profile data can be changed by filling out the forms obtained by clicking, respectively,

Ch. Info

and

Ch. Profile

. Edit the fields as necessary, then type your password in the bottom box, and validate the form, by clicking on

Change

, or pressing the

Enter

key.






Note that the mail address in this form will be displayed for other users.